Mary Lafleur's first recording for children and families, Pink Elephants, produced in 1994, won the Parents' Choice Gold Award. I Love My Day School, a live-action video featuring music written and produced by Mary won the Family Channel Seal of Quality and was also listed in the top ten videos of 1996 by Child Magazine.
In Addition, Mary was chosen as a Silver Medallion Award winner for Pink Elephants, More Pink Elephants, and I Love My Day School by The Wolf Trap Institute for Early Learning Through the Arts and the Wolf Trap Foundation for the Performing Arts. In 1997, Lisa Kay and Mary traveled to Germany, Paris, and London, then went in the studio and produced their last music project, Pink Elephants in Paris.
Mary's poetry has been published in Cricket, Spider and Ladybug Magazines. One poem, "Deep in the Forest," found on Pink Elephants was also anthologized in the Cricket book Can You Do this?
Mary Lafleur has performed her original music and poetry in such diverse places as the Please Touch Museum in Philadelphia, the Children's Museum of Manhattan, the Zoofari Festival in Tulsa, and The Caves in St. Paul, as well as schools, libraries, bookstores, coffee houses, and community centers in twenty states.

Mary's unique blend of improvisational musical theatre and performance poetry is one of a kind. By putting the children at the center of each performance, Mary takes audience participation to a new level. No two shows are ever alike! Volunteers from the audience help act out new stories about pirates and train rides, and re-examine classic tales such as "The Little Red Hen," "Goldilocks," and "Little Red Riding Hood." Mary uses fun props such as wigs, pirate eye-patches, and train whistles to draw the audience into an exciting make-believe world.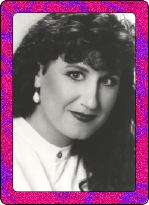 Is this Mary Lafleur? In 1996, Yes! Now? Not quite. Although Mary had donned a shorter haircut by 2003, she lost what hair she had to chemotherapy treatments that fall. Her hair is now short and curly with blond/gray highlights. A new picture will be forthcoming.
You can read Mary's poetry and riddles on this site. You can also find a complete sampling of Pink Elephants (and order the CD) at CDBaby. You can also order CDs and tapes and curriculum directly from Mary at pinkele194@aol.com.