| | | | | | | | | |
| --- | --- | --- | --- | --- | --- | --- | --- | --- |
| | | | | | | | | |
| Family | Friends | Music | Poetry | Riddles | Links | News | Concerts | Home |
PURCHASE MARY LAFLEUR'S MP3 SINGLES!
Watch this site for more MP3 singles in the future. While some of these songs cannot be downloaded anywhere else,
most are available on CD or as a full MP3 download. You may listen to samples and order them at CDbaby (click here).


I Used to Have a Little Girl Like You
This song will bring a tear to your eye.
Listen to sample


I'll Be Yours Till The Butter Flies
A delightful song recorded by Mary in 2007.
Listen to sample





Pink Elephants:
Song Riddles and Poetry You May Remember Indefinitely

Young and old alike are welcome to "come on in" and sit by by the fire to share a few old, familiar stories, hear a new story with pirates, go on a train ride.

Pink Elephants (poem) Listen
Goldilocks Listen
On A Train Listen
I Love You 100 Listen
One of the most loved songs by Mary's fans.

Purchase the entire CD in MP3 format $9.99 or any song you do not see here at

Read More&nbsp&nbsp&nbsp Awards and Reviews&nbsp&nbsp&nbsp Read Lyrics&nbsp&nbsp&nbsp Listen (and/or buy the CD) at CD Baby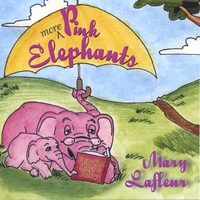 More Pink Elephants:
Fairy Tale Songs And Poetry


Beginning with "Once upon a time" and ending with "All's Well That Ends Well," these familiar tales have been dusted off, tongue-in-cheek-like, with an eye for the humorous and the humane.

The Wolf and 3 Little Pigs Listen
Little Red Riding Hood Listen
Purchase the entire CD in MP3 format $9.99 or any song you do not see here at

Read More&nbsp&nbsp&nbsp Read Lyrics &nbsp&nbsp&nbsp Listen (and/or buy the CD) at CD Baby
The Pet Project


Whether you're a librarian looking for materials to jazz up your Reading Program, a teacher looking for new material on pets or animals, or a parent hoping to find fabulous music for your kids, this CD is for you.

Teddy's Bear Listen

Awards and Reviews&nbsp&nbsp&nbsp&nbsp&nbsp&nbsp Listen (and/or buy the full CD) at CD Baby
Pink Elephants in Paris


This musical romp is a wonderful introduction to the French language and culture. It includes songs, riddles and poetry written, spoken and sung in both French and English and features native speakers during several sketches. Now available on CD!

Fairy Wings Listen

Alouette

Moonshine

Freres-Jacques




I Love My Day School
This collection of songs can be especially reassuring to children going off to preschool for the first time or for early elementary. Available on MP3 only on Mary's site!
My Day School
Listen
Be My Friend Listen
Play Ground Listen
Sleepyhead Listen
Together Again Listen


Read More&nbsp&nbsp&nbsp Awards and Reviews
---
You Are Visitor


For more information, contact: